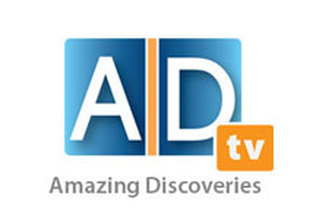 Amazing Discoveries TV
Amazing Discoveries TV is a non-profit organization in Canada and the US committed to exposing deceptions and errors in the religious realm, history, science, media, and health.

Running on Australia and New Zealand. Satellite: Optus D2 Position: 152° East Band: Ku. Frequency: 12,608 MHz. Symbol Rate: 22,500 Ksym/s F.E.C.: ¾. Polarization: Horizontal. Europe, Africa, Middle East. Satellite: Intelsat 20 (IS-20) Position: 68.5° East Band: 1.5 Mb Frequency: 12,522 MHz. Vertical Symbol Rate: 27,500 Ksym/s.

Watch Live TV from over 1000 Satellite TV Channels for free in SD and HD, watch on Apps or the Web for free! We host over 20, 000 video on demand Web TV titles that have been cleared for worldwide distribution. Live Sports News Movies and great free streaming TV Entertainment including TMZ Live, The Best of UFC, The Soup and many more. These are all from providers like CNN, Disney, ESPN Fuel, CBS, Discovery, Fox and NBC, BBC, RAI, FRANCE and many more!